Power, pop, and probings from ABC News Senior White House Correspondent Jake Tapper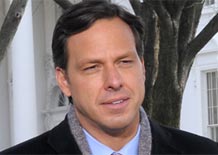 Study: 19 Ambassador Nominees Bundled $4.8 Million for President's Campaign, Inauguration
If all goes according to plan, Colorado businessman Vinai Thummalapally will soon be moving to a Central American tourist paradise to be Ambassador Extraordinary and Plenipotentiary of the United States of America to Belize.
Thummalapally was President Obama's roommate at Occidental College in 1979. As Barbara and Vinai Thummalapally described it to the Colorado Springs Gazette, they "used to party with (the president) in college. He was the guy who'd drink a few beers, maybe take a toke, stay up until 4 a.m. then excuse himself to crank out an 'A' paper due that morning. … He was Barry, the mellow guy in the leather jacket, dragging on a cigarette."
Of course, friendship only goes so far in the world of ambassadorships. It's Thummalapally's fundraising for — not partying with — President Obama that is more characteristic of his fellow ambassador nominees. The Coloradan bundled between $100,000 and $200,000 for the Obama campaign and has personally contributed $13,375 to Mr. Obama's various campaigns since 1999. And according to Federal Election Commission records, Thummalapally's "not employed/student" children Vishal and Sharanya donated $2,300 and $2,275 to the president.
The information comes from the Center for Responsive Politics, which in a recent study concluded that the president's new nominees for ambassadorships to Belize, Belgium, Liechtenstein, Romania and Switzerland "brought in at least $1.1 million for Obama's presidential bid as bundlers, and at least another half-a-million as bundlers for his inauguration. To date, this brings the contribution histories of Obama's ambassador nominees to roughly $1.8 million in donations since 1989. The 19 ambassadors that CRP has found in our campaign contribution database, along with their spouses and children, have given more than $98,200 to Obama personally, bundled at least $3.4 million for his 2008 presidential run and bundled another $1.4 million for his inauguration."
As we reported last month, President Obama is hardly the first president to appoint pals and big donors to ambassadorships nor, according to the American Foreign Service Association, is he the worst offender in recent history.
In addition to his former Occidental party pal, President Obama nominated:
Former Virginia lieutenant governor and businessman Donald Beyer for ambassador to both Switzerland and Liechtenstein; he and his wife Megan bundled at least $500,000 for then-Sen. Obama's presidential campaign, with Megan bundling at least $245,000 for the inauguration;
Lawyer Howard W. Gutman to be ambassador to Belgium; he bundled at least $500,000 for the campaign and another $275,000 for his inauguration;
Entertainment executive Charles Rivkin to be ambassador to France; Rivkin, head of the entertainment company W!LDBRAIN who produces Yo Gabba Gabba!, bundled at least $500,000 for the campaign and $300,000 for the inauguration;
Lawyer John Roos to be ambassador to Japan; he bundled at least $500,000 for the campaign; and
Lawyer and investment banker Louis Susman to be ambassador to the United Kingdom. Nicknamed the "Vacuum Cleaner" because of his skill sucking up checks for Democratic candidates, Susman and his wife bundled at least $100,000 for the Obama for America campaign and at least $300,000 for the inauguration.
The list goes on and on, but you get the picture.